Located in the Oak Cliff neighborhood of Dallas, Texas, our fun dentistry office will make your entire family feel comfortable and at ease. We use the latest techniques to assure you are comfortable during each procedure. Our patients' comfort is enhanced by utilizing the latest dental technology offered today. Our doctors and staff are trained and proficient in using sophisticated dental equipment.
Our entire team shares a commitment to providing dentistry with a sense of service, and we have developed a reputation for compassionate and friendly dental care. Our office reflects this commitment, and we hope you will find it a welcoming place.
We provide plenty of free parking in our lot, and we can serve you in English and Spanish. For our patients we provide Satellite television, WiFi internet access, headphones, and for the kids at heart we have Texas Rangers and Dallas Cowboys themed operatories with comfy massaging dental chairs and flat screen TVs.
We look forward to meeting you!
MEET THE TEAM
Our team is dedicated to providing caring and professional dental service.
We hope to develop a positive, trusting dental health relationship with you that will last a lifetime.
Miriam
Miriam born and raised in Dallas joined Atlantis Dental as a Dental Assitant. She enjoys working at Atlantis Dental since she loves working in a fun, friendly and family-oriented atmosphere. Her bright smile and warm attitude shows patients that they are in very good hands. She has a special touch with kiddos and babysits quite frequently. When not assisting at out office, Miriam enjoys spending time with her daughter, going shopping, and loves doing makeup.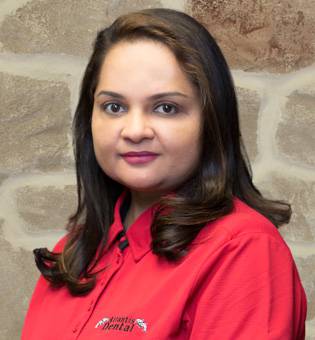 Kavita Bhardwaj
Kavita manages the day-to-day operations of our practice. She also created the interior design of our beautiful office. As Dr. Bhardwaj's wife and business partner, Kavita helped envision and establish Atlantis Dental in 2007 and continues to manage our office. She is a Dallas native and an avid animal lover. In her spare time she loves shopping and exploring Southlake, volunteering at the animal shelter, travelling and going to the beach. She also collects international currency.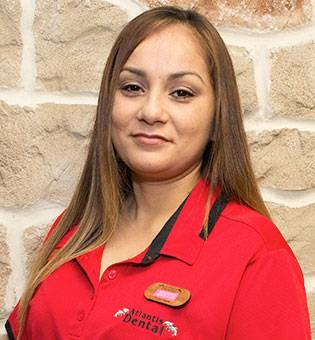 Edith Trevinio
Edith is our Insurance coordinator and is one of the friendly people you will meet at our front desk. She joined Atlantis Dental in 2015 after several years in dentistry. She is a Dallas native and loves to serve her community in our office. Edith can serve you in English or Spanish, and can help you with your insurance verification, and any customer service needs you might have. Outside of the office, Edith loves spending time with her husband, children and grandchildren. She loves working out and organizing family cookouts.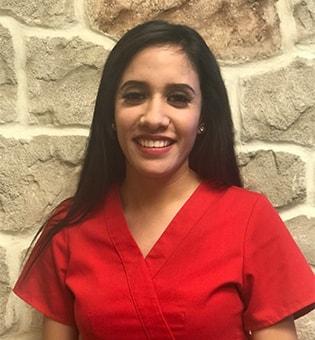 Suset RDA
Suset is our friendly, knowledgeable treatment coordinator and dental assistant. She enjoys the daily in-depth interaction with her patients with five years of RDA experience. The experience has helped her gain valuable knowledge of all aspects of dental procedures. She has completed advanced training in CEREC. Most importantly, Suset loves learning through continuing education and watching the confidence of patients grow throughout their treatment. Her favorite part of the day is getting to see our patients beautiful smiles! Away from the office, Suset enjoys relaxing at home, spending time with her husband and traveling to Mexico to visit her family.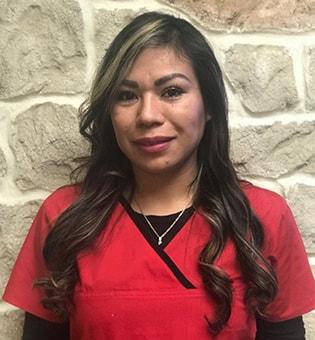 Tanya
Tanya has eleven years of experience as a dental assistant and has completed advanced training in orthodontics. Tanya finds that the most invaluable moments are when she has the opportunity to help our patients have a memorable and comfortable experience. Outside of work Tanya enjoys spending time with her kids, watching wrestling, or whipping up something delicious in the kitchen.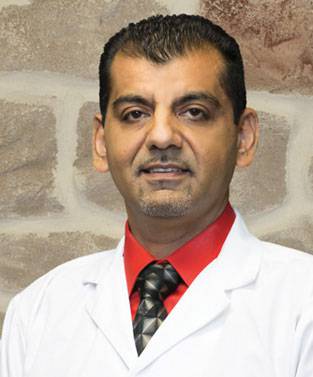 Dr. Lalit Bhardwaj
Dr. Lalit Bhardwaj received his Doctor of Dental Surgery (DDS) from the New York University College of Dentistry in 2005, and moved to Texas in 2008 to establish Atlantis Dental in Dallas. He has extensive experience with children's dentistry, endodontics, tooth extractions, orthodontics and cosmetic dentistry. With a dedication to constant improvement of his skills, Dr. Bhardwaj loves to keep up with advances in dentistry through continuing professional education.
A die hard Mavericks, Rangers and Cowboys fan (he even has a Dallas Cowboys dental chair), Dr. Bhardwaj is dedicated to the Dallas community. He is known by his patients for his gentle nature and comforting demeanor, and he always takes the time to listen to his patients, to make sure his patients are comfortable and to keep his patients informed about their treatment. In his off hours Dr. Bhardwaj enjoys spending time with his family and his pet dog and guinea pig. He loves trying new cuisines, swimming, playing video games and watching Cowboys and Rangers games.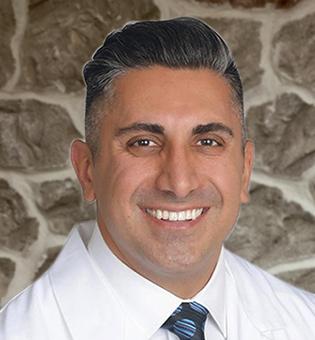 Dr. Cameron Hamidi
Dr. Hamidi is a dental specialist whose passion is to help people smile. Dr. Hamidi is proud to be a periodontist, a dental specialist with expertise in dental implants, the management of gum disease and periodontal plastic surgery.
Dr. Hamidi obtained his Doctor of Dental Surgery (DDS) degree from The Ohio State University College of Dentistry in 2007. Afterwards, he completed a 3-year surgical residency in Periodontics and Implant Dentistry at the University of North Carolina. (UNC) During his surgical residency, he learned advanced techniques in both non-surgical and surgical Periodontology such as Periodontal Plastic Surgery (gum grafting), Laser Periodontics, complex bone grafting, dental implants, and other specialty surgeries related to the gums and bone around the teeth. While in residency, Dr. Hamidi also completed his master's in public health with emphasis on Health Policy and Management from UNC. Shortly after completing his residency program, Dr. Hamidi became Board-Certified, a distinction only a handful of surgeons achieve and maintain.
While actively expanding his practice, Dr. Hamidi also teaches as an adjunct clinical assistant professor at University of North Carolina (UNC) School of Dentistry, since he truly enjoys collaborating with the surgical residents-in-training on their challenging cases.
Dr. Hamidi holds memberships in many national and international dental organizations including The American Board of Periodontology, The American Academy of Periodontology, The International Team for Implantology, The Academy of Osseointegration, The American Dental Association, The Texas Dental Association and The Dallas County Dental Society. He is active in the Dallas community where he continues to serve and volunteer his time to treat underserved patients.
Dedicated to providing you with the best care available, Dr. Hamidi constantly advances his practice through continuing education by attending national and international meetings. "My goal is to provide you with exceptional patient care in an environment equipped with the most cutting-edge diagnostic and clinical care. I am committed to excellence that surpasses your periodontal and implant surgical care to encompass your total well-being."
While not working, Dr. Hamidi dedicates most of his time training for elite mountain climbing expeditions. He does so by traveling nationally and internationally to some of the most remote places on Earth to experience sights only few ever to get to experience in their lives at such high altitudes. "Mountains are very special, they have something magical about them. They can be so dangerous and yet make us feel so small and humble. After spending time surrounded by them or climbing them you will feel the urge to come back. Every mountain I have climbed has taught me at least one important life lesson."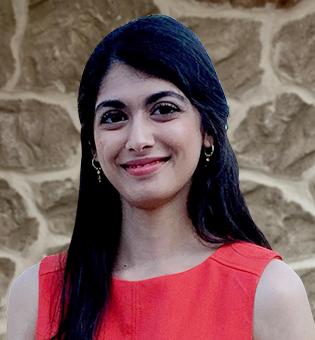 Dr Neha Khanolkar
Dr. Neha Khanolkar is from Plano, Texas. She graduated Magna Cum Laude from the University of Texas at Dallas with a B.S. in Biology and a Minor in Business Administration. After concluding her time at UTD, she attended Texas A & M College of Dentistry where she received her dental degree. A part-time artist and painter, Dr. Neha loves being a dentist because she is able to work with her hands while helping make a difference in someone's life. She strives to provide quality dental care while fostering long lasting relationships with her patients. In her spare time, Dr Neha enjoys painting, baking, traveling and spending time with her friends and family.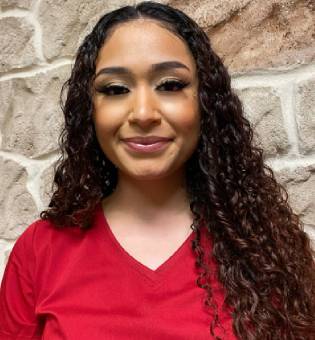 Daisy RDA
Daisy is born and raised in Dallas, Texas. She is proud to be a bilingual dental assistant in our practice. She loves getting to know and assist patients everyday. Her priority is making their dental visit a comfortable and pleasant experience. In her free time, she enjoys hiking, doing make up, and spending time with her son and family.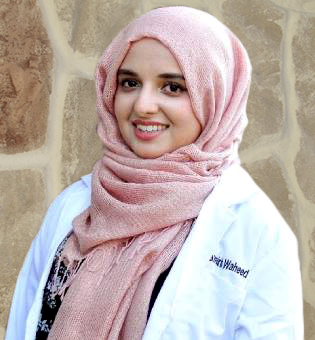 Dr. Jawairia Waheed
Dr. Jawairia Waheed is from Plano, Texas. She received her bachelors of science in Neuroscience from University of Texas at Dallas and graduated Magna Cum Laude. She went on to receive her doctor of dental surgery from Texas A&M College of Dentistry. Dr. Waheed is a member of American Dental Association, Dallas County Dental Society, and Texas Dental Association. She believes in treating each patient as she would her family and enjoys interacting with patients every day. In her free time, she enjoys reading, shopping and spending time with family and friends.