Is the last Google search of yours "Invisible Braces near me?" Then this blog comes with everything you need to know about Invisalign braces!
Your dream of straight teeth may no longer necessitate a set of hefty metal braces. You can have a Hollywood smile without the inconvenience of unsightly wire and bracket braces with Invisalign braces. Invisalign, which is barely noticeable, will boost your self-esteem and confidence while straightening your teeth!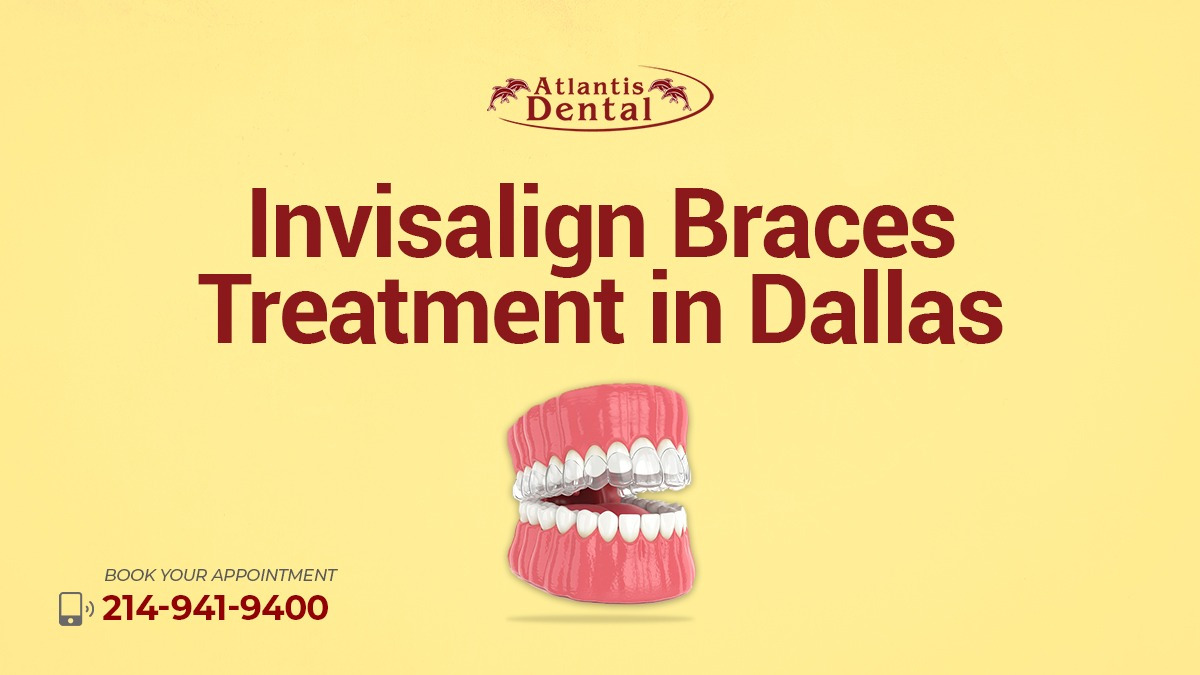 If you want to improve the appearance of your smile but are concerned about the formation and inconvenience of traditional braces, Invisalign may be the solution for you!
What distinguishes Invisalign from traditional metal braces?
First and foremost, Invisalign braces are a clear aligner that is used to straighten your teeth without bothering about your appearance during the treatment, as the aligners are made of transparent plastic it is almost invisible when worn . Getting braces as an adult can be intimidating, but with Invisalign, you won't have to worry about social situations because your friends won't be able to tell you're wearing them.
Second, unlike traditional braces, which require you to avoid eating sticky or rough foods that damage your appliance, Invisalign aligners can be removed! You can take your aligners out if you want to savor a special treat or a bite of your favorite cuisine.
Cost of Invisalign braces in Dallas
The cost of Invisalign invisible braces in Dallas is frequently compared to traditional metal braces, but it should be a no-brainer with all the benefits that Invisalign provides. Treatment with Invisalign is more efficient and comfortable. Invisalign braces provide therapy that no other clear aligner brand can match. Invisalign is the world's most advanced transparent aligner system, with a unique material that has been proved to fit better and more comfortably.
In Dallas, Invisalign can cost anything between $3,000 and $8,000 CAD. This is decided by the state of your teeth and gums, the length of your treatment, and the amount of coverage your orthodontic insurance provides.
What happens After [ Invisalign] Treatment is Completed?
You can finally wave goodbye to your invisible braces aligners once your orthodontic treatment is completed. We recommend wearing a retainer to keep your teeth from slipping back to their original place. We provide two types of retainers to our patients. A fixed lingual wire retainer or a removable retainer. The lingual wire retainer is glued to the back of the teeth and is permanent. Because it can't be taken out, you won't have to worry about remembering to put it in or take it out. Regular flossing is essential with a lingual wire retainer since the wire can gather food, tartar, and plaque. The removable retainer is one passive appliance that supports your teeth in the new position. you will have to wear either one of these retainers for a period of 6 months once your Invisalign treatment is done.
Invisalign-Things you need to know about!
Traditional metal braces are replaced with Invisalign, a modern and attractive alternative. They developed a series of invisible braces to straighten your teeth over some time, usually 12-18 months, instead of having your orthodontist cement metal brackets on your teeth. You must first have a comprehensive oral examination, which includes x-rays. A mold of your mouth will be made if your teeth and roots are healthy. Rather than employing the messy impression substance used in traditional molds, that mold is created using an optical scan of your teeth.
Individual tooth movements are arranged to utilize a sophisticated computer program and a virtual model of your teeth. The computer then calculates the movements required to straighten your teeth and creates a sequence of transparent aligners for you to wear.
INVISALIGN'S BENEFITS
Let us list down some reasons for which Invisalign invisible braces have a high customer satisfaction rate:
Invisalign is practically undetectable. You don't appear to be wearing braces in any way.
Because Invisalign aligners are removable, you won't have to worry about food getting stuck in them, and you won't have to avoid sticky foods.
Traditional metal braces are far more uncomfortable than Invisalign aligners. There are no wires to irritate or poke the inside of your mouth because they are composed of plastic.
Invisalign straightens your teeth in half the time it takes with regular braces. The movements are very efficient because the aligners are manufactured with computer technology. An entire course may be completed in 12-18 months (instead of 2-3 years for traditional braces).
Conclusion:
Make an appointment for your Invisalign consultation today!
Please don't hesitate to contact us if you have any concerns regarding Invisalign invisible braces or would want to organize a consultation visit. We'd be delighted to hear from you!